Stats
Element: Void
Bought From: Castle Throne Level 3
Cost: 35,000 Gold
Type: Hero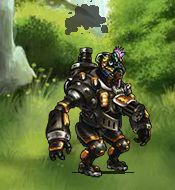 HP - 6,200 (+3.2 per level)
Atk - 140 (+0.65 per level)
Def - 20 (+0.75 per level)
Move Speed - 1.4
Aptitude
HP - 320%
Atk - 65%
Def - 75%
Spells
Jack's Minigun (Level 1) Cost - 1
Heal (Level 2) Cost - 2
Thunder Storm (Level 10) Cost - 3
Thunder Storm II (Level 30) Cost - 4
Thunder Storm III (Level 60) Cost - 5
Info
Mad Scientist.
Note: Unlike most heroes, Robo Jack's Special attack does not harm targets within a certain range, meaning if melee units get close to him, he is completely defenceless against them.
Ad blocker interference detected!
Wikia is a free-to-use site that makes money from advertising. We have a modified experience for viewers using ad blockers

Wikia is not accessible if you've made further modifications. Remove the custom ad blocker rule(s) and the page will load as expected.