Stats
Element: Thunder
Bought From: Castle Throne Level 9
Cost: 40,000,000 Gold
Type: Hero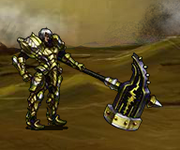 HP - 7,500 (+3.8 per level)
Atk - 120 (+0.65 per level)
Def - 60 (+0.85 per level)
Move Speed - 1.6
Aptitude
HP - 380%
Atk - 65%
Def - 85%
Spells
Special Attack (Level 1) Cost - 1 
Heal (Level 2) Cost - 2 
Shield (Level 5) Cost - 2 
Thunder Storm III (Level 60) Cost - 5 
Thunder Shield (Level 300) Cost - 5 
Info
Hammering Hero
Kholai, thanks to being the only elemental hero with a Defence Aptitude over 70, has the potential for the highest defence of any unit in the game with Element+ and Hero+ abilities.
excellent for 12-4 because of thunder and amazing defense potential.
Ad blocker interference detected!
Wikia is a free-to-use site that makes money from advertising. We have a modified experience for viewers using ad blockers

Wikia is not accessible if you've made further modifications. Remove the custom ad blocker rule(s) and the page will load as expected.